~ A collection of artists and critics' ear-witness accounts of Around sound art
festival 2009, and their latest reflections on "sound art" and listening ~
集合多位藝術家及藝評人對香港首個聲音藝術節的聽証及他們對「聲音藝術」及聆聽的想法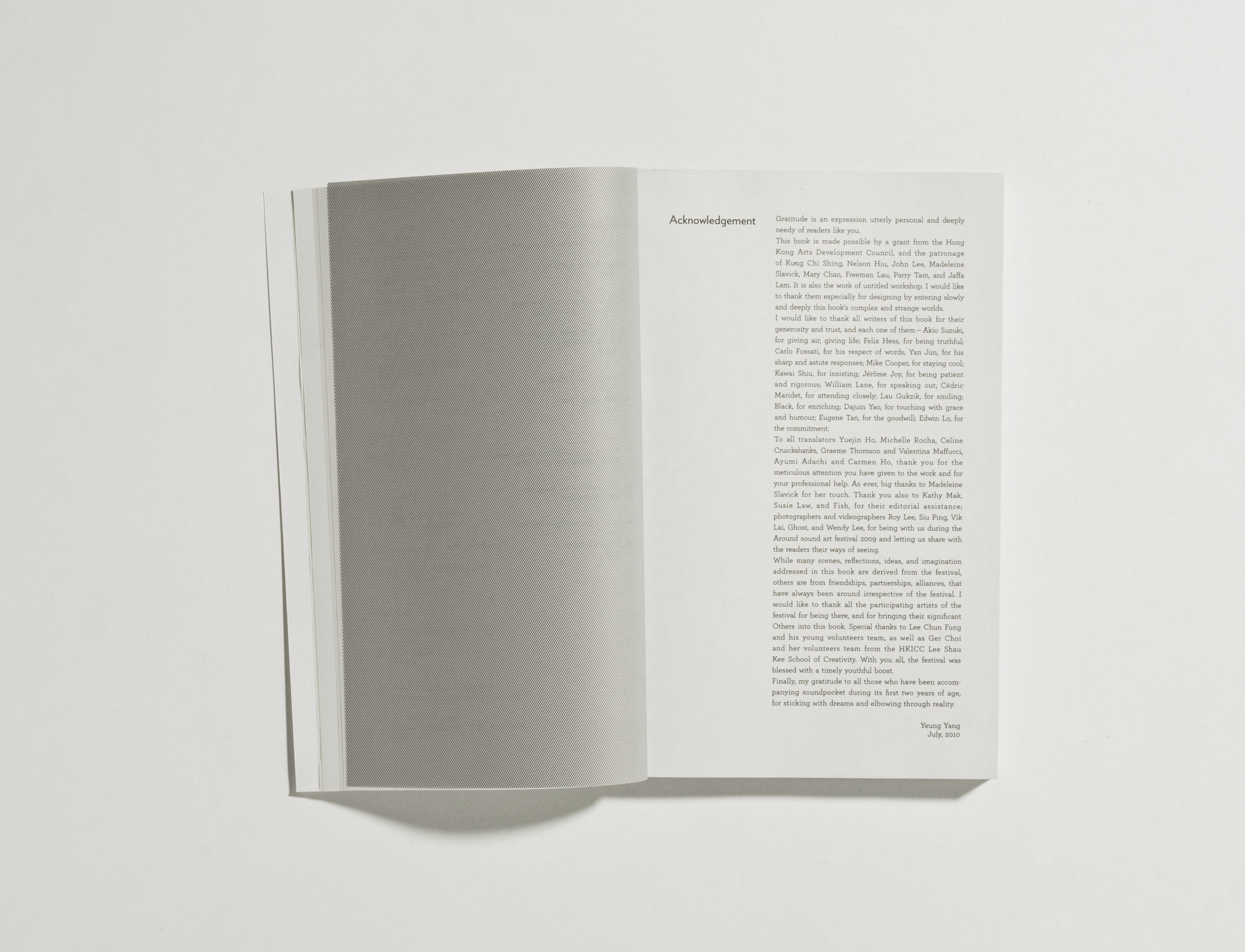 "Island" - sound installation by Miki Yui (Japan/German), Around sound art festival 2009
Contributing writers 作者: Akio Suzuki 鈴木昭男, Black ç´ é»' , Carlo Fossati ,
Cédric Maridet , Dajuin Yao 姚大鈞, Edwin Lo 羅潤庭, Eugene Tan, Felix Hess,
Jérôme Joy, Kawai Shiu 蕭家偉, Lau Gukzik 劉掬色, Mike Cooper, William Lane,
Yan Jun 顏峻
Publisher 出版: soundpocket 聲音掏腰包
Editor 編輯: Yeung Yang 楊陽
370 pages + 1 CD of 12 recordings (75'42'')
ISBN 978-988-19480-1-4
in English and Chinese + French, Italian and Japanese
全書中英文+部分法語、æ"å¤§åˆ©èªžåŠæ—¥èªžæ–‡ç« 
'Writers write not only about "sound art" per se,
but of listening-to, listening-before and listening-after.'
– Yeung Yang, curator of Around sound art festival 2009
《Around 聽在》is the first book published by soundpocket, a registered charity
promotes sound art and its research and education in Hong Kong. The title of this
book is derived from Around sound art festival 2009 – a festival of listening and the
first of its kind in Hong Kong. Artists, curators, critics and musicians contribute 16
essays on listening in less noticed places in Hong Kong like Motat on Lamma Island,
empty public housing estates in Wong Chuk Hang, and listening to frogs and rivers,
listening to distance. The book includes a CD with 12 recordings of site-specific
works presented in the festival.
About Around sound art festival
Reaching its second year, Around sound art festival continues to highlight the
importance of listening in art. The title of the festival and the book "Around" is an
extension of the name "soundpocket". They both emphasize comportment and
bearing, what lies around and makes them possible. The Chinese title of Around is
ting zai (Putonghua) and ting joi (Cantonese). It means both "listen at" or "listen in",
and "listen to be". When used as part of a phrase, ting joi designates the place and
time of listening, for instance, "ting joi Lamma" means to listen in Lamma, and "ting
joi 2009" means to listen in 2009. The broader meaning of "to be" is the human
horizon against which all listening activities are experienced and understood.
Click to download content of Essays and CD tracks
The Library by soundpocket- Artist in residence for
[Jul 13/14] Making Max Make Music with Markov
29.05.2013 – KLUB MOOZAK #63 – LIVE: PETER
Open Call for projects for IN-SONORA VIII
Biffarella- Berenguer-Gomez : Sonidos y otras yerbas-Sonidos en
MSRCD049 – Diego Dias & Marcio Gibson –
Harvestworks New York 2013/14 New Works Residencies Announced
MSRCD048 – Al Sand & Marcio Gibson –
CoLo & Cory O'Brien . Laser Acoustic
You must be logged in to post a comment.